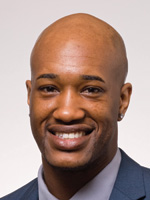 Councilman Andre Rainey
is the greatest advocate for Peekskill's youth than Andre Rainey. Born in Peekskill, Andre grew up in an Air Force family, living in Germany and Nevada before returning to his roots and graduating from Peekskill High School in 2002. He is passionate about our city, the potential of its young people, and making sure that the growth Peekskill has seen over the last decade lifts all lives. He is a strong proponent of a more cohesive relationship between City Hall and the Peekskill City School District.
Millennial entrepreneur and small business owner, Andre knows the power of partnerships in building a vital community with opportunity for all. Representing the next generation of Peekskill leaders, he understands that millennials want a safe, inviting residential community, access to mass transit and a well-regarded school district so they can raise families here. Andre is the President of NOO Moves Entertainment, which he founded in 2010 at the young age of 26. He writes and records his own music and produces events to promote artists of all genres including poets, musicians, visual artists, dancers, comedians, and designers. He organized and helped manage the Jimmy Mack memorial service at the Paramount Hudson Valley. A long-time partner and collaborator with local artists and arts organizations including EMBARK, the Peekskill Arts Alliance, and the Paramount, he is a firm believer in the importance of the arts as an economic generator for the city. He has helped build relationships between the city's African-American community and its youth and the city's burgeoning arts scene. Andre has been instrumental in the re-establishment of the Peekskill branch of the NAACP. Andre is the program director of a privately funded arts program for Peekskill youth and teens at the Kiley Center. He speaks at youth seminars and correctional facilities, has taught college workshops on expression and controlling emotions, and works with F.I.S.T. (Fathers in Support Together) to mentor children. He hosts numerous community events, from Easter egg hunts for children to Christmas parties for seniors. His collaborative efforts have attracted the sponsorship of major corporations like Fidelis Health Care, Shop Rite, McDonald's and Dunkin Donuts for the annual book bag drive providing school supplies to any child. He has doubled the drive since its inception six years ago. Andre is a dedicated father to his 2-year old son, Zylon.