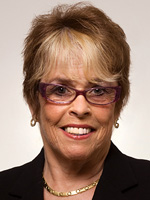 Councilwoman Kathleen Talbot is everywhere in the community. A member of the Budget committee and Business Improvement District board, she keeps a sharp eye on the city's finances and the needs of local businesses. Knowing Peekskill doesn't exist on an island, she is the council's go-to liaison to the county's environmental consortium, Sustainable Westchester, and has been at the forefront of efforts, working with the grassroots environmental organization SAPE, to stop construction of a dangerous gas pipeline through Peekskill. Kathie is passionate about responsible development, environmental protection, clean energy opportunities for homeowners, Peekskill's arts community, and improving the overall quality of life for all residents.
During her first term Kathie has focused acutely on business development, working to move the Holiday Inn Express on John Walsh Blvd to completion as well as a number of new dining and retail establishments, including Hudson Room, Gleason's, McDonald & Peacock, Ramenesque, Iron Vine, Beale Street Barber Shop, Early Electrics and Jo-Ann Fabrics. She has put equal effort into supporting the growth of existing businesses like Sav-Mor Discount Auto Parts, HRHCare, Save-A-Lot, and C-Town. Kathie takes an active role in ensuring intelligent planning for residential development along Brown St., Central Ave. and Main St. so Peekskill residents get what they want from developers… not the other way around. One of her signature achievements on the Council has been the opening of Scenic Hudson Park at Peekskill Landing and the soon-to-be completed Southern Waterfront Park and Trail –projects that combine the arts, recreation, environmental protection, open-space, and tourism.
A life-long resident, Kathie has been committed to Peekskill's growth for decades… A founding board member of the Peekskill Education Foundation and Peekskill Artists Alliance, she has served on the boards of the Paramount Center for the Arts, WESTCOP, Women in Communication and Women in Management. She holds memberships in the National Association of Social Workers and the NYS Society of Clinical Social Workers. She served two terms on the NYS Democratic Committee.
Following a 25-year award-winning career in her own corporate communications business, Kathie earned a Masters of Social Work degree from Fordham University and is now a clinical social worker. She owns a home in the Fort Hill section of Peekskill and has a son, Bryan and three beautiful grandchildren.