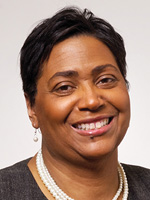 Councilwoman Vivian "Cyndi" McKenzie is a life-long Peekskill resident who comes from two of the city's oldest established families, the Bridgewaters and the Jamisons. She is owner and operator of the iconic downtown destination Kathleen's Tea Room. The only African-American serving on the Peekskill Common Council, she is a member of Park Street A.M.E. Zion Church, the Alpha Kappa Alpha Sorority, Inc., the Westchester Black Women's Political Caucus and the NAACP Peekskill Chapter. Vivian attended Peekskill city schools, graduated from the State University of New York at Binghamton with a Bachelor's of Science in Management and worked for 27 years in the insurance field as a Claims Adjuster, Fraud Adjuster, Special Investigator and Territory Sales Manager for Hanover Insurance, GMAC and Allstate among others.
Vivian supports sensible solutions to maintaining low taxes and improving city services and was a key force in ensuring that Peekskill residents weren't hit by a massive tax increase last year. As a Councilwoman, she has worked aggressively with the City's Human Resource Director to address employee issues of fairness and equality. She brings common sense to the discussion of City finance and business development, and a straight-talking no-nonsense approach to governing that cuts through the politics. Vivian helped lead the city's negotiations with Wheelabrator and played a major role in solidifying the continued existence of the Peekskill Business Improvement District (BID). As a downtown business owner she spearheaded amended legislation allowing upper floor dwelling units as well as artists' lofts in the downtown C-2 district and advocated for the city's artist co-ops through the restructuring of their mortgages. She is a proponent of online services, which provide more convenience for residents and a bigger bang for their tax dollars.
A former board member of the BID, she also participates in the Peekskill Individualized Experience for Seniors (P.I.E.S) Program at Peekskill High School, which helps graduating seniors find employment or post-high school education. As a successful small business owner and Councilwoman, Vivian has become a respected leader and go-to resource for fellow business owners on day-to-day issues.
Vivian resides in the north end of Peekskill with her husband, Eric and is the proud mother of Marqui, Charisha and Erika. She is the adoring Nana to her granddaughter Jada.